e21 Forum Highlights Four Areas of Energy Innovation Across Minnesota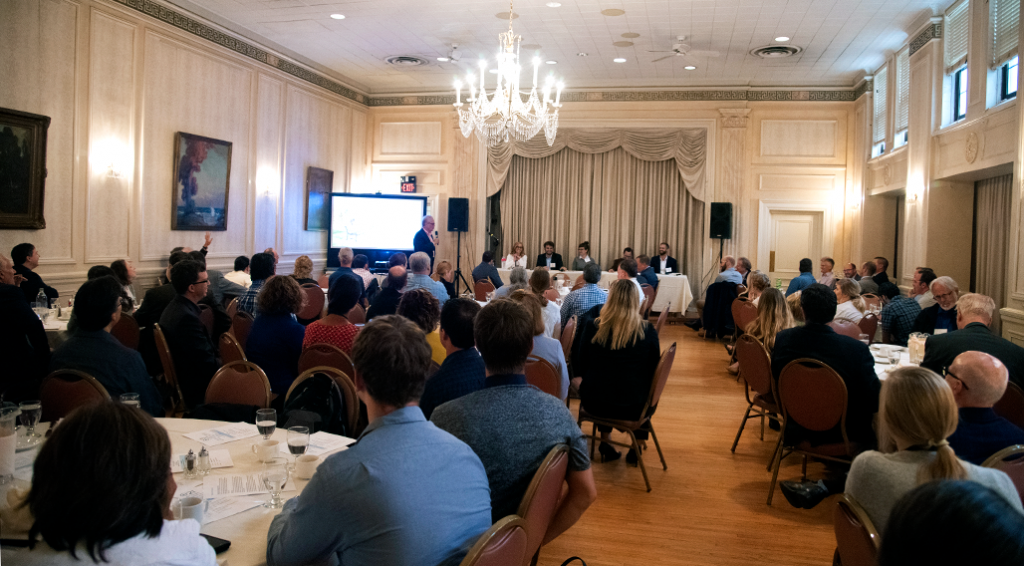 On Monday, August 26th,  Minnesota energy stakeholders came together to learn about four areas of innovation happening across the state's energy system. The event was put on by the e21 Initiative, a collaborative effort between the Great Plains Institute and Center for Energy and Environment that convenes diverse stakeholder groups to help shape and advance a decarbonized, customer-centric, and technologically modern energy system in Minnesota.
The event featured four panels of Minnesota-based teams that took part in Rocky Mountain Institute's 2019 eLab Accelerator, "an invitation-only four-day working meeting bringing together teams throughout North America that are working on high-impact and innovative projects at the electricity system's distribution edge." Notably, several Minnesota stakeholders had previously participated in the eLab Accelerator as they were working on the recommendations that came out of e21 Phase I in 2014 and Phase II in 2016.
The four teams, which included representation from multiple utilities, advocacy organizations, and technical experts, presented on the problems that they were trying to solve, their progress to date, and their next steps. Here are brief descriptions for each of the teams (a full list of team participants is available in the slide deck linked at the end of this blog):
Great River Energy (GRE) Comprehensive Planning — GRE is a generation and transmission company that provides power to many of Minnesota's cooperative distribution utilities. This team sought to explore how energy efficiency, demand response, electrification, and other demand-side resources could be optimally accounted for in GRE's integrated resource planning process.
Grid Mod Squad – Across the US, electric utilities (either of their own accord or due to regulatory requirements) are looking at making significant investments in modernizing the electric grid, with a particular focus on the distribution system. However, the best ways to effectively shape and evaluate those proposals is still being figured out. This team sought to look at commonalities and differences across grid modernization plans and build out a toolkit that utilities and stakeholders alike can use to support effective and successful grid modernization investments.
Decarbonizing Minnesota's Natural Gas End Uses – With both significant space heating needs and some large companies that need high-quality process heat, "electrifying everything" can only take Minnesota so far on its path to decarbonization. This team (which the Great Plains Institute (GPI) and Center for Energy and Environment (CEE) were both a part of) sought to explore how natural gas end uses might be successfully decarbonized. With the help of the team, GPI and CEE will soon launch a new yearlong stakeholder process to explore this further in Minnesota.
Battery Storage Game Plan – As the prices of battery storage technologies drop rapidly, utilities, energy service companies, environmental advocates, and others are working to figure out how to use batteries for system, customer, and environmental benefits. This team sought to develop a game plan for advancing the effective use of battery storage among cooperative electric utilities, including both distribution and behind-the-meter use cases.
Click here to download slides from the event (including panelist contact info).
Click here to read a blog from Rocky Mountain Institute about the event.
e21 Forums are put on by GPI and CEE several times each year to help raise awareness and foster discussion around cutting-edge energy topics relevant to advancing a 21st century energy system in Minnesota. e21 Forums are made possible through generous funding from the McKnight Foundation, Energy Foundation, and Joyce Foundation.
Sign up for the e21 newsletter to stay up-to-date on all of our work.
---
Stay Up to Date With e21
Interested in learning about e21 related news and events? Sign up for our newsletter.