Resources & Reports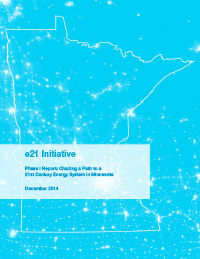 e21 Initiative Phase I Report
Charting a Path to a 21st Century Energy System in Minnesota
This report is written primarily for Minnesota's electric utility regulators, policymakers, organizations representing ratepayers, and others who have a stake in the direction of Minnesota's future energy system, and includes specific recommendations for statutory changes and regulatory action.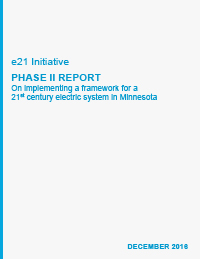 e21 Initiative Phase II Report
Implementing a Framework for a 21st Century Energy System in Minnesota
Phase II aimed to build on the consensus recommendations of Phase I, but in more specific areas, with more participants involved. That was the goal. The Phase II report reflects a great deal of work by participants representing a broad cross-section of the public interest, and a substantial increase in the understanding of the positions and concerns of all participants in this phase.